Leipzig Palms (LE Palms) will cultivate and research palms from all continents, especially palms for deserts, savannahs and other dry lands or wastelands. So we can improve the desert greening process, conservation, regeneration, reforestation and revegetation in dry and barren landscapes. Help us to reduce the worldwide desertification, global warming and land degradation. @Greening Coasts, Greening Deserts, Green Ring Africa,..
Today we present Wodyetia bifurcata, the foxtail palm. We have one year palms, you can order now in our palm shop. http://www.LEPalms.shop
The foxtail palm is endemic to a remote area in Queensland, Australia on the Cape York Peninsula where they grow in rocky and flooded scrubland. Usually found in sandy, acidic soils, they grow from sea level to 400 m in elevation. Queensland, Australia, N.E. Queensland, confined to the southwest, south and southeast sides of Melville Range, latitude 14˚ 17′ S, longitude 144˚ 28′ E.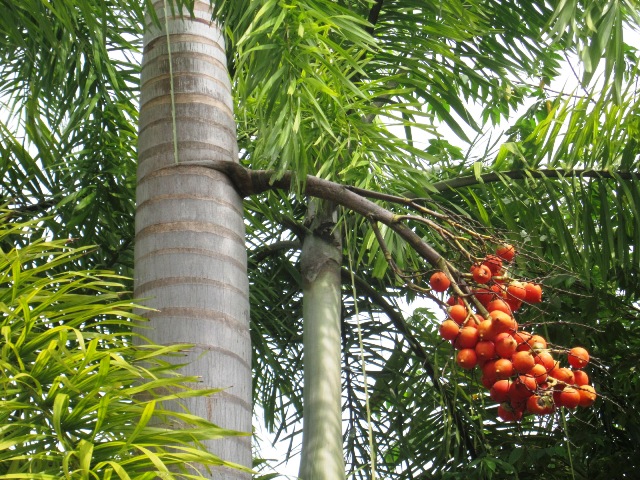 Biology And Ecology: Wodyetia occurs in open woodland communities consisting of rain forest elements in coarse, loose granite sand, among huge granite boulders, with the main canopy being the palms themselves. Other tree species associated with it are low forms of Ficus obliqua, F. benjamina (semi-creeping), Buchanania arborescens, Polyalthia nitidissima, Myristica insipida, Diospyros reticulata var. ferrea, Cryptocarya bidwilli, and vines Capparis sp., Cissus sp. It extends 1-2 km, downstream, along open forest creeks at the foot of the granite boulder hills. Here it may be found amongst Eucalyptus polycarpa, E. drepanophylla, Cochlospermum gillvrayei and Bombax ceiba forest. It appears to be absent from dense closed forest communities in the area. In these communities the palm Archontophoenix alexandrae is a prolific upper canopy species. Altitude range is 60-400 m a.s.l. Climatic conditions have a strong seasonally dry component, with drought stress likely to be significant for six months of the year. Annual rainfall is reckoned to be about 1400-1600 mm, confined mainly to 3-4 months of the year, DecemberMarch (Summer Wet). Mature fruit is present in October-December, open flowers are likely to be found in December and February. Seed germinates in 2-3 months, coinciding with the wet season, but sporadic germination continues for at least 14 months. (Irvine, A. 1983)
Wodyetias have proven highly adaptable, and are grown in suitable climates all over the world, in places as varied as Miami, Los Angeles, Bermuda, Durban, Honolulu, Sydney, Auckland, Cape Town and Corsica. In Southern California, Wodyetias are best started in the ground from relatively large plants, the bigger the better. Little baby plants will survive, but often disappoint. Full sun is best, plus well-drained soil. No ph issues known. Once established will grow fast, though not as fast as in more humid climates.